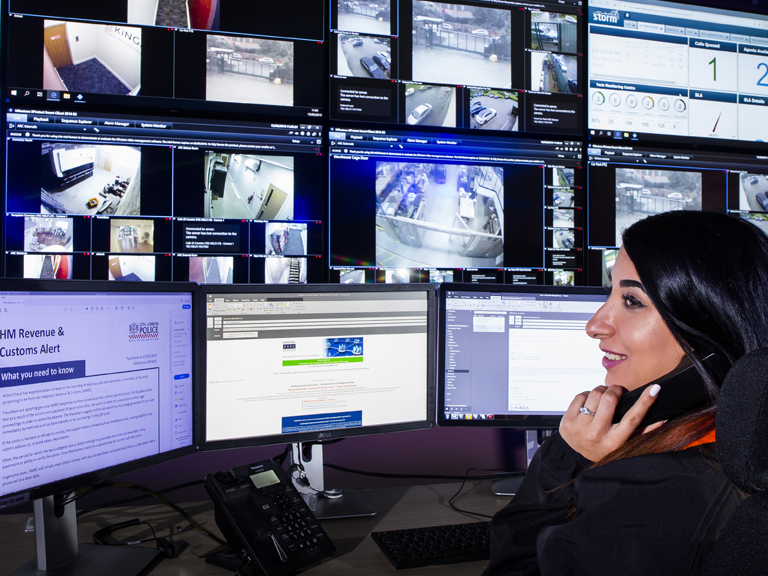 Providing our customers with cutting-edge security technology and round-the-clock monitoring, Kings is actively preventing criminal activity on its customers' sites; no matter how large or small.
Run by a dedicated team of monitoring operatives and fully qualified engineers, Kings provides its customers with 24/7 service support through its own Cougar Monitoring Centre (a Kings company) and Remote Video Response Centre (RVRC).
Fully NSI Gold accredited and operated within the strict guidelines of ISO 9001, ISO 27001 and BS 5979 you can be assured of a high standard of protection day and night.
Intruder Alarm Monitoring
Working as a deterrent and an active security and safety solution, a monitored intruder alarm system offers a fast response to all activated alarms, reducing the chances of intrusion, theft and potential confrontation, whilst supporting customers in meeting their insurance requirements.
As an industry leader, Kings provides quality monitoring technology and offer its customers a range of bespoke solutions and technologies, including Redcare, CSL Dualcom and WebWayOne.
Fire Detection Monitoring
An effective fire safety strategy is not only a legal requirement, but a vital part of any business plan – helping save lives, protect buildings and ensure business continuity, should a fire occur.
We install industry-leading technology and carry out round-the-clock monitoring to provide customers with early fire and smoke detection that, should the worst happen, provide greater safety and protection for you and your business.
CCTV Monitoring
CCTV systems can provide an effective method of securing unmanned sites and providing controlled access for deliveries. A professionally designed system also provides a visible deterrent to criminals and opportunists – you enjoy the peace of mind of knowing that nothing goes unseen in and around your premises. Kings CCTV monitoring solutions are bespoke to your business, giving you the best monitoring results, capturing high definition images round-the-clock.