DYMENSiON is at the cutting edge of innovation and is continually being developed to support clients to the next level of secure service and business process management. Its modular design and high level of configurability means that whatever type of service you deliver, this software platform can be an integral part of its successful growth and delivery.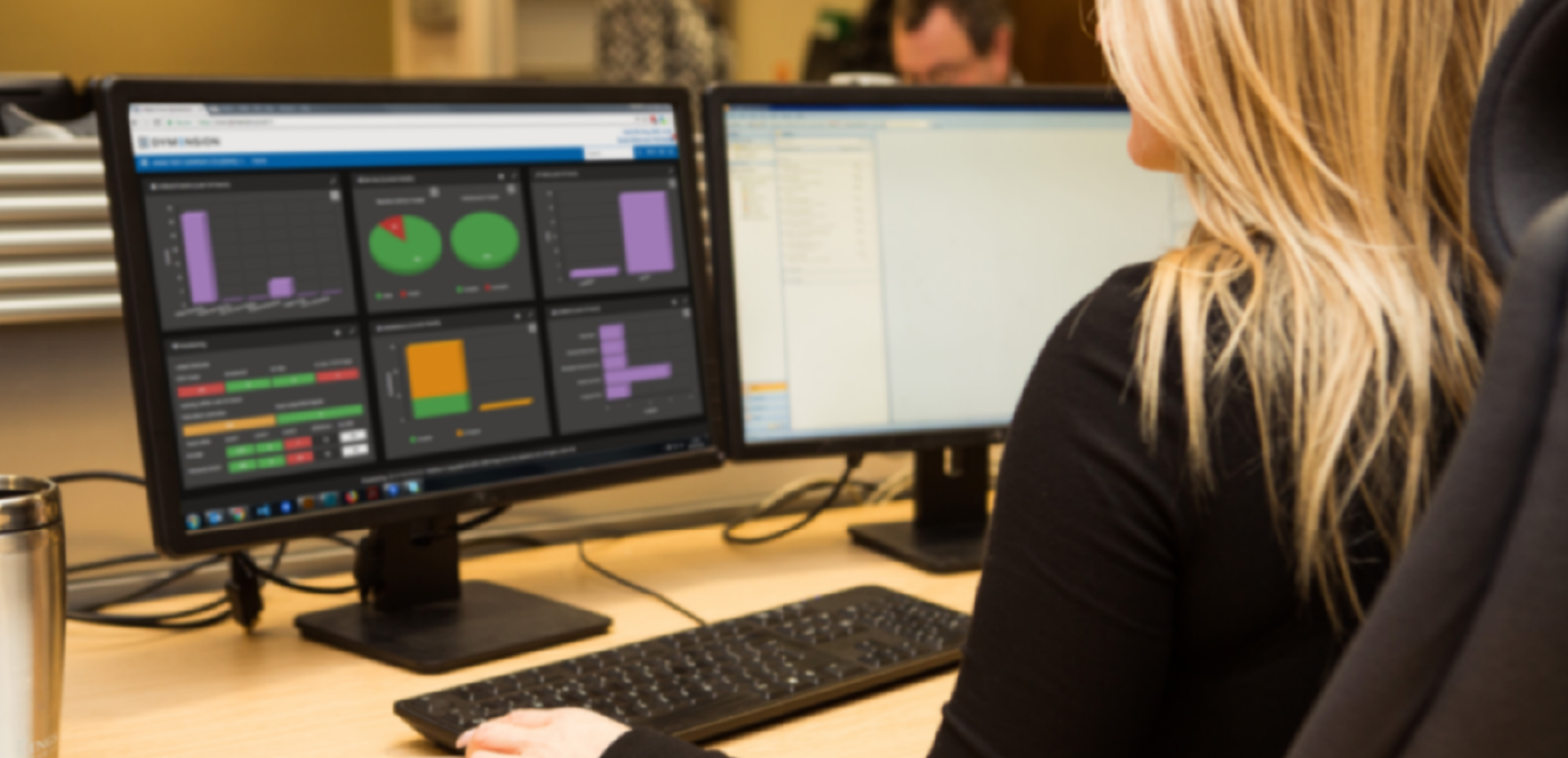 "The system offers certainty of service and mass communication to my team which is vital in the world we live today."
Security Director – Financial Services
DYMENSiON is a secure browser-based solution developed by Kings that provides access to a multitude of data by providing an accurate, real-time picture at site level. This tool will provide a deeper level of risk profiling and resource planning to you.
DYMENSiON reports prove to be a valuable asset to reporting, and in cases such as incident management, when the DYMENSiON OneTouch app is used, you will be able to view the process from Job dispatch/notification right through to the response patrol being undertaken and e-form being complete.
E-forms produced by the OneTouch app are automatically uploaded in real-time to the DYMENSiON desktop portal. Using the desktop portal tailored to your needs, DYMENSiON will enable you to view the live data of Security Personnel continuously. You will have the ability to run reports independently, monitor SLAs and KPIs and view displayed charts.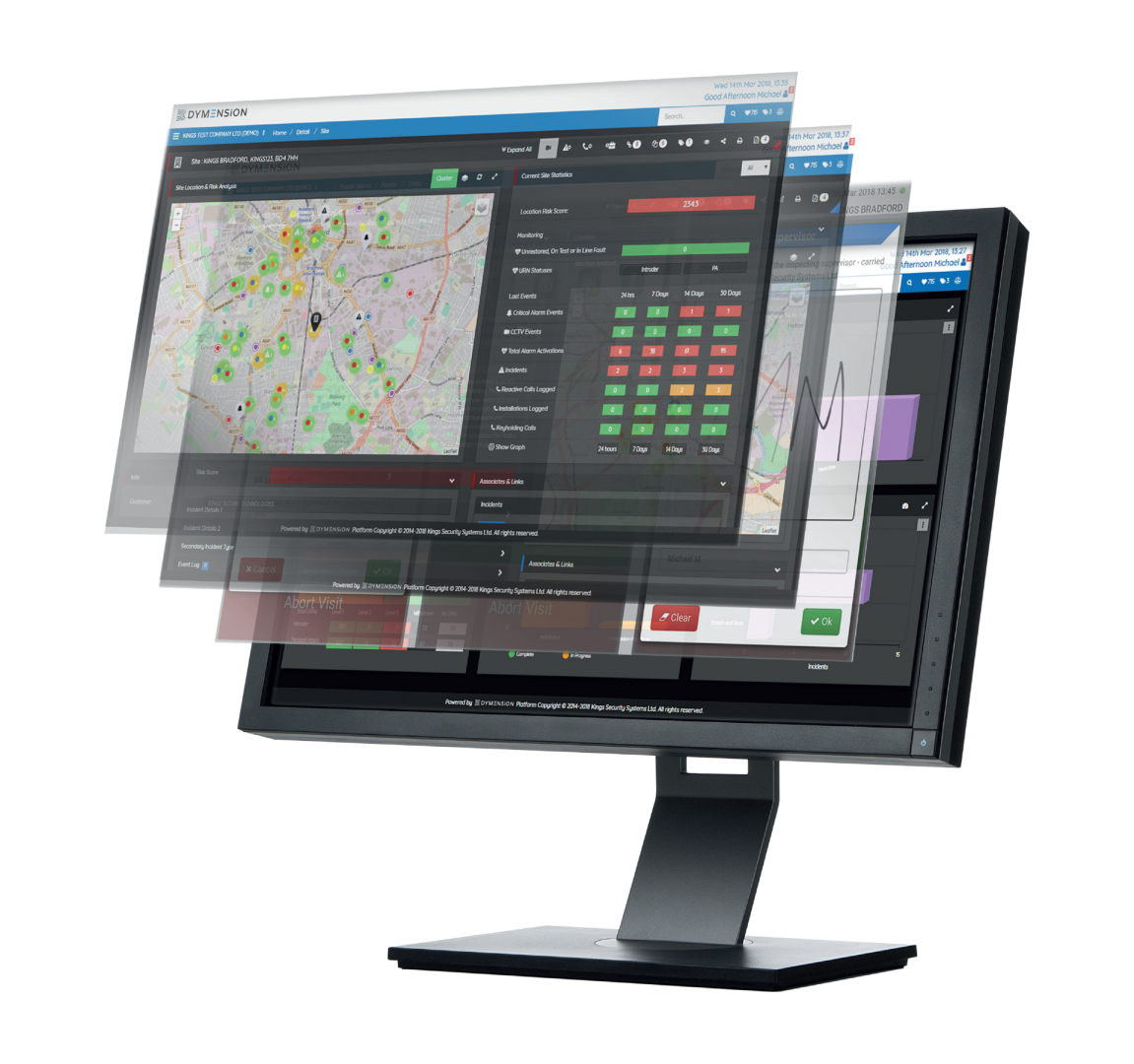 DYMENSiON enables Security Provision to exceed current service levels and allows you to be proactive should you foresee any issues – protecting SLA achievement.
Kings has seen that by using DYMENSiON, our clients are able to minimise crime reoccurrences as they have the ability to provide strong leads to the Police of any recorded incidents. Our clients are also better able to identify the patterns that lead to these incidents – empowering a strong plan for risk mitigation and aiding crime prevention.
The operating platform offers 4 core dimensions that can be integrated into your services as follows:
DYMENSiON Capture
Forms
Mobile App – DYMENSiON OneTouch
Sensor Data Capture
Integration
Construct data capture forms using our built-in workflow engine. This can be tailored to your requirements by working alongside our in-house team. With the OneTouch App you can collect data via intuitive forms and attach photos, sound clips, videos and signatures. Once your form is complete it will be available through the DYMENSiON Desktop Portal.
Additionally, there is the ability to integrate with other systems data that can be processed using common tools.

DYMENSiON Flow
Business Processes
People
Vehicles
Incidents
Health & Safety and Risk
Suspicious Activity Reporting
Fraud and Money Laundering
Patrols
Key Holder Visits
Compliance
Dispatch
After your data is collected it is securely sent to our servers and follows a pipeline of validation and processing tasks including authorisation/acknowledgement chains. Once this process is complete your data is sent to our Business Intelligence Data Services to be made ready for reporting.
DYMENSiON Intelligence
Dashboards
Reports
Maps
Documents
Cases Folders
Print
Links
Search
Analytics
The Intelligence module of DYMENSiON is where you can view all of your data which has been captured and processed. You can choose to view the data in many different ways including Grids, Dashboards, Maps, Entity Relationship Diagrams and Pdf Reports.
We also have a secure document management system where you can save all your documents, images or videos safely with instant and easy access to them whenever required.
Case Management further allows you to categorise your documents into logical containers for ease of retrieval and sharing.

DYMENSiON Share
Bulk group notifications
Location based notifications
Critical Security Alerts
Business Continuity Alerts
Secure MI Reporting Distribution
Designed to keep everybody in the loop, our Share Services have you covered. Send out timely and information packed messages to your key contacts via SMS, email or Push Notifications all via DYMENSiON.