DYMENSiON OneTouch – a mobile and highly flexible solution that is an integral part of the Kings DYMENSiON Platform, allowing you to easily and innovatively extend the use of the platform within your business.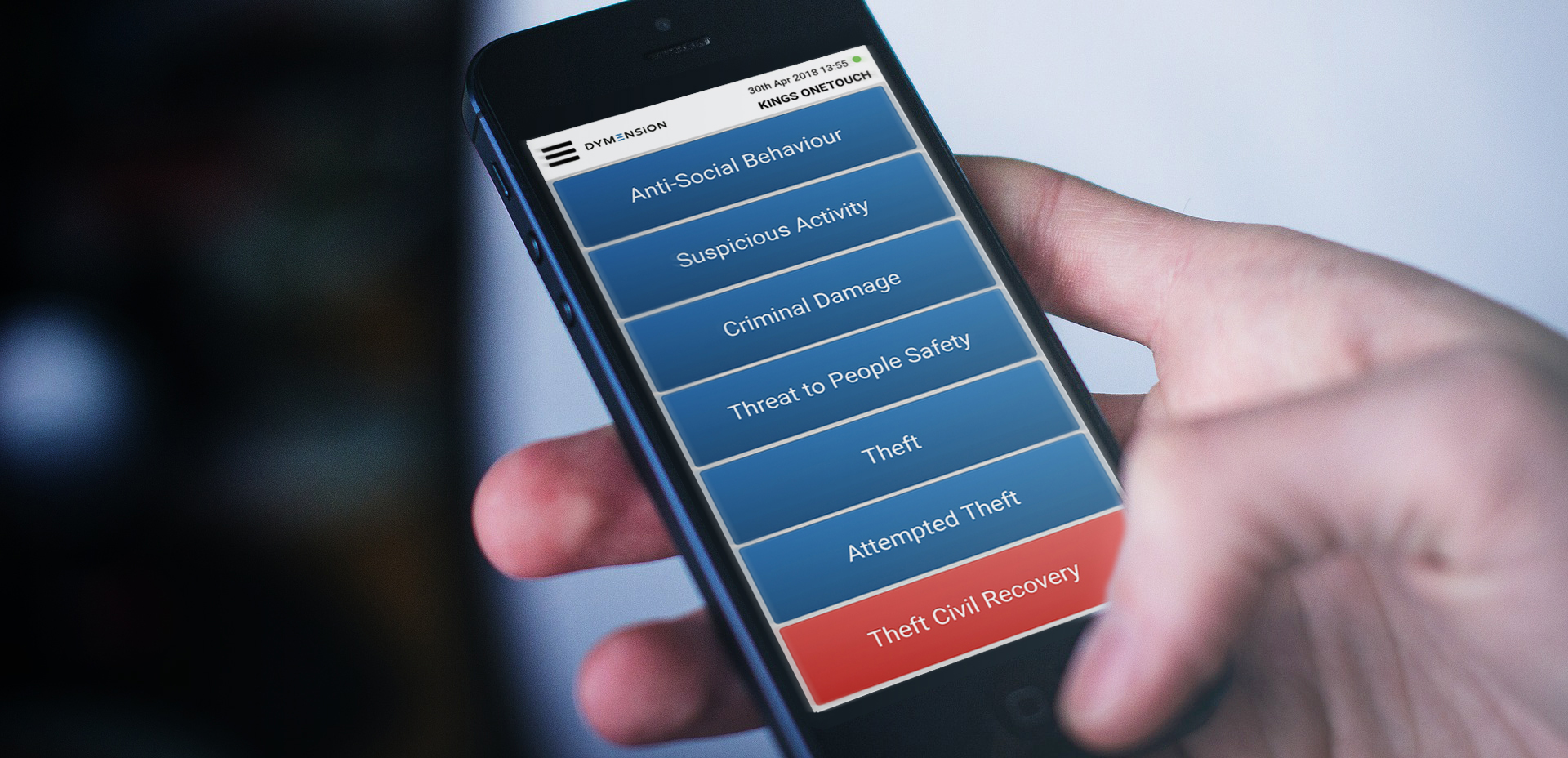 "The system offers certainty of service and mass communication to my team which is vital in the world we live today."
Security Director – Financial Services
OneTouch can be used by on-site and mobile staff, third party contractors and engineers within multiple sectors such as Security, Crime and Risk Prevention and Compliance and Service Management. Capture real time incidents and complete many types of processes, gathering data and multi-media evidence at the touch of a button.
Effectively used to streamline and automate processes such as incident reporting, inspections, compliance audits, civil recovery, patrol management, health and safety and dispatch job management processes – improving efficiency due to the ease and quality of real-time reporting.
OneTouch is also a secure and robust multi-media notifications and alerts engine, that delivers real time intelligence sharing easily.
The latest version of DYMENSiON OneTouch is now available for download in both the Apple App Store and Google Play Store
DYMENSiON OneTouch can be used to enhance many processes such as:
Incident Management
Significantly improved reporting, allowing better and more informed risk decisions
Health & Safety
Improved visibility of non compliance leading to the reduction of claims and enforcing a good work practice culture. Promotes the effective response to serious issues, potentially reducing any reputational impact
Dispatch Management
Safety and staff reduction opportunities by saving the financial costs of key holding and out-of-hours operations
Patrol Management
Improved location based reporting with less resources and better intelligence generation
Civil Recovery
Opportunities for increased revenue generation and preventative impact
Data Sharing and Collaboration
Allows intelligence to be shared quickly and securely to enhance operations and safety of staff
OneTouch is brought to life facilitating Routine Patrol Management and Incident Management.
The Kings designed App, which automatically synchronises with the DYMENSiON desktop portal, has the following attributes to improve these processes and information records.
Use with Tags (NFC tag or QR codes) set up in specified locations around the site agreed upon during the Mobilisation stage of the system. This can include pre-planned patrol routes or common locations around the site
Security Personnel will be able to scan the tag using the OneTouch App, this will record the time and location then display an e-form with questions that must be answered and the option to also add a comment
Once the questions have been completed, the Security Personnel will be directed to their next location, and once scanning the next tag, will receive their next set of questions/checks to complete until all patrol route locations have been completed
When answering each question the Security Personnel will not only be able to add comments, but can also take photographic evidence, record audio, or video and attach this to support their answer.
Throughout the patrolling process, Security Personnel are also able to add any of the following events at any point:
Stop and Search – This allows officers to add a "stop and search" event during a patrol with the ability to record all details live, and again support with media evidence
Health and Safety – With an ease of reporting potential hazards this increases the report rate and allows for a safer site
Other Incidents – These are recorded against Pre-Set types and a brief description e.g. Type: anti-social behaviour description. 3 teenagers loitering around site entrance
OneTouch has an alerts function. Using the desktop portal, You can send notifications to the OneTouch app users, cascading information electronically direct to their regional teams.
Supporting media can also be attached to notifications, which not only saves time in the relay of information but also avoids any loss of information during communication – ensuring that all of your users are fully informed.